About Andy Albright
Andy Albright has a knack for motivating people and getting them to move toward whatever goals they have set to reach. Albright, the president and CEO of National Agents Alliance, wakes up each day with a burning desire to make the most of every minute. His day normally starts with a quick "whitesheeting" session and then he heads to the gym at his home just outside of Burlington, N.C.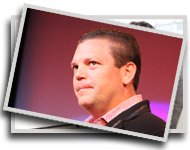 No matter what the activity, Albright is thinking about what he can do next. Once he locks in on an idea, he takes an aggressive approach to reaching the goal...quickly.
After learning from some of the best and brightest leadership coaches during the last 20 years, Albright decided it was time to expand the boundaries and way he could help others.
Thus, the Albright Challenge, a 90-day motivational, self-improvement program, was born in July of 2012. Albright has compiled the best teaching and coaching tips he has learned from dynamic leaders like John C. Maxwell, Brian Tracy, Dan Sullivan, Tony Robbins and many others.
Throughout the Challenge, you will learn from Andy daily and track your progress with a series of actionable, trackable steps. Andy will share tips and advice that have helped him become highly respected among industry experts in several different disciplines.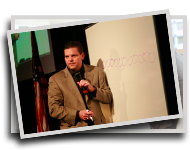 To many, Albright can seem intense with an urgent sense of "we gotta do this now" written all over his face. To those who know him well, that intensity is born out of a passion for helping to push other toward heights they never thought possible.
That's just Albright's nature. He wants the best for everyone he meets, and he makes no apologies for that approach.
It's also the work ethic he learned from his parents, who raised Albright in Union Ridge, N.C. Albright remodeled the same home he grew up in and now lives there with his wife Jane and their children – Haleigh and Spencer.
Albright's strong work ethic, love of people and a goal of wanting more out of life led him to North Carolina State University, where he earned a degree in textile sciences.
Prior to attending North Carolina State University, where he earned a degree in textile sciences, Albright attended Western Alamance High School in Elon, N.C., where he played football, basketball and baseball. After contemplating a professional baseball career, Albright opted to be a professional student instead.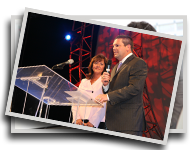 He was a quick study early in his textiles career and climbed the ranks at several major companies, leading a team of more than 400 employees. Ultimately, however, Albright decided to pursue other opportunities because he realized he could never be the president at the companies he worked with, not to mention that NAFTA was enacted and jobs were rapidly leaving North Carolina.
After starting and owning at least 13 different companies, Albright finally found his niche with National Agents Alliance. With hard work and a solid team of people, NAA grew into a national company that helps protect thousands of people all over the United States.
Outside of NAA, Andy Albright has a number of interests. He is the author of "The 8 Steps to Success," "Millionaire Maker Manual," is a motivational speaker and serves on several different advisory boards. He goes out of his way to work with students at N.C. State and is a valued advisor for the school's Entrepreneurship Initiative. He also supports Wolfpack athletics and can be seen at almost all home football and basketball games. He also maintains his own blog at www.AndyAlbright.com.
He is heavily involved with Alamance Community College, where he serves on its advisory board and Albright makes generous contributions on a regular basis to the school.
Albright also enjoys attending Carolina Hurricanes hockey games with his family, playing golf, watching movies and traveling around the world to far off destinations.
Albright insists that the best is yet to come and refuses to let up with his professional and personal endeavors. His ability to get people to move is what he is known for, and that is not likely to change. His goal is to always keep pushing for more and never settling for anything less.
Check out Andy's personal letter to you here!